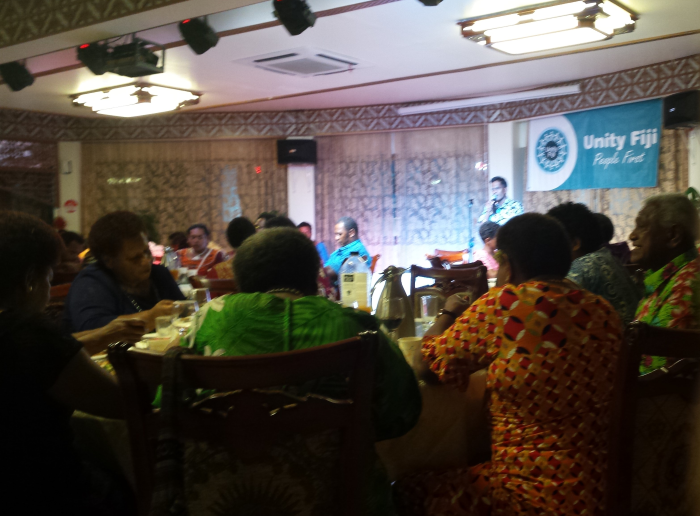 Unity Fiji was launched in Nadi on Friday 18th August after completing its first phase of "Meet the People "program in the West. The launch was attended by the Chiefs and people from the Yasayasa Vakara ranging from Rakiraki in Ra to Cuvu in Nadroga. The Leader of Unity Fiji Mr Savenaca Narube said, "We wanted to meet the ordinary people in the West, thank our volunteers and to talk again to representatives of the people that we had met earlier." Those that addressed the gathering were Ratu Tevita Makutu Vosailagi a Chief of Nadroga, the General Secretary of Unity Fiji Mr Satish Kumar and a community worker in Fiji, Mrs Mereoni Taginadavui.
In his keynote address, the Leader of Unity Fiji Mr Savenaca Narube, said that there was a very good reason Unity Fiji decided to launch the party in the West first. To register as a political party, we were required to sign up 1,750 members in the Western Division. We got more than 3,700 members which is more than double the required number. This number surpassed the total we got in the central division. "I believe that this large number was a strong and clear signal of our support of the Western Division in our Vision of Building Unity in Diversity. I thank all of you that signed up for Unity Fiji."
Mr Narube emphasised that, "I seriously believe that Unity Fiji will make a difference. You have told us that people were looking for an alternative. I tell you tonight, look no further. Unity Fiji offers you not only a political alternative but a credible one. We will deliver what we say we will deliver. We will deliver because we have a team that has the experience, the skills, and the passion to deliver. You can place your confidence on the leadership and the team at Unity Fiji. We are here for you. We will put you first."
Mr. Narube revisited several issues that the people had raised with the Party in its recent visit to the West. He said, "We have heard your frustrations that these issues have been around for a long time yet there has been very little progress. These included the ownership of and returns from the resources that you have and the future of the sugar industry which supports many families in the West. You told us that you were resource rich yet cash poor. With its credible leadership and an experienced team, I assure you that Unity Fiji will address these issues in an integrated, objective and professional manner taking into account all sides of the issues." But what Unity Fiji will not do is to play politics with the issues that are important to you and your family which has been a major barrier to finding lasting solutions in the past and building unity."
Mr Narube also said, "Unity Fiji has heard your plea for us to provide your basic needs—the so-called bread and butter issues. We consider our strength at Unity Fiji to be in economic and financial management. With an experienced team, we will provide more jobs for our school leavers. We will be more effective in improving health and education. We will raise the quality of public spending so your tax payers' dollar will go further. We will not throw money at people as we all know that this is not effective. We will be more accountable and transparent to the people so you can be the judge of how well we are delivering what we promised to do. With that package of inclusive leadership, proven experience in economic management, stronger accountability and putting people first, I can assure you tonight that Unity Fiji will do a better job in developing our country."
Unity Fiji will visit the North in the week beginning 28th August and launch the party in Labasa on Friday September 1st. The Party will end its "Meet the People" program with meetings in the Central Division in the week beginning September 18th and the launch in Suva on Friday 22nd.