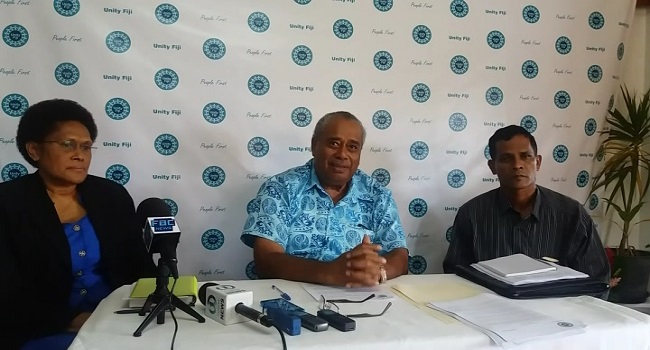 Statement by Mr. Savenaca Narube, Leader of Unity Fiji
I join Satish in warmly welcoming everyone to this inaugural press conference by Unity Fiji.
Today, is another milestone for us. We would like to first express our deep appreciation to the 9,500 members that have joined the movement from all walks of life and ethnicities across Fiji. I would also like to acknowledge the volunteers that have visited all parts of the country to sign up our members. We also thank those that have prayed for the Party and encouraged us on this journey.
The near doubling of the members of Unity Fiji from the required number of 5,000 in a relatively short time, I believe, reflects the increasing momentum of our people searching for a credible political alternative. To us at Unity Fiji, it is an encouraging affirmation of our aim to allow the people to decide their destiny, to find true freedom and democracy within the bounds of the law and to retain their God given identities.
I therefore believe that Unity Fiji presents a credible alternative to the people of Fiji. The new Party will change the political landscape of the country by bringing people together and replacing the politics that have polarised us with that of unity. The Party is multiracial and will unite the people through a national vision that is shared by everyone and where people are free to keep their chosen identities. We believe that we can live together in diversity without sacrificing our identities.
I stress that Unity Fiji is not something that just recently happened. We are not a fly-by-night movement. The party has been in the making for several years. We wanted a movement that all the people of Fiji can call their own. Very importantly, Unity Fiji brings a new brand of politics that puts people and not politics first. We are here for the people—not for ourselves. We are placing the People at the center of this movement—to build a nation that lives in unity, peace, tolerance and prosperity. It is our legacy. We owe it to our children and grandchildren and those that will come after them to build this united Fiji.
Let me tell you that we have consulted nationwide. It was clear from our "talanoa" with people from all walks of life, the young, old and women, that they were searching for an alternative political direction for Fiji. We believe that the 9,500 supporters who signed up for this movement in a short time agree that Unity Fiji offers this credible new direction for Fiji. The Party presents to the people a leadership team that has a demonstrated track record. People can place their confidence in the people behind the Party to improve the quality of public policies and provide a durable platform for growth and stability.
As you know, to start a new political party requires commitment and sacrifice. Some of us have done that leaving aside jobs and our comfortable zones to present this credible option to our people. The choice at least to me was that if I can do so then I must contribute to giving the people their opportunity to change their destiny. I am glad to say that we have a team that shares this vision.
A lot of you will be asking: what differentiates Unity Fiji from other parties? Let me highlight four:
First, the leaders and people behind Unity Fiji have proven themselves in their chosen fields. We will present a strong team whose track record speaks for themselves.
Second, with an experienced team, we aim to elevate the level of political dialogue so we can develop economic and social policies that are relevant and sustainable.
Third, we will build genuine unity through a clear vision for Fiji shared by everyone; and a strong commitment to putting people first by strengthening accountabilities, transparency and being fair to everyone.
Fourth, as I have said above, we will put the concerns and the aspirations of people first. We will be there for all the people of Fiji.
Let me say here that I believe that multiracialism is the future of Fiji's politics. We accept the reality that Fiji is made up of ethnic groups. Multiracialism will not weaken our ability to address the concerns of each ethnic group. On the contrary—it will enhance our chances of addressing ethnic issues sustainably. We are in the same boat. What happens to one ethnic group must be of concern to others. Unity Fiji will address the concerns of all ethnic groups in Fiji from the perspective of building national unity.
Unity Fiji realizes the importance of basic needs like jobs, housing, education and health. We acknowledge the poor, disadvantaged and vulnerable in our societies. I also acknowledge that solutions to these basic needs are complex and they take time. But we will not only vigorously find solutions to these, we will find solutions that last. I believe that one of Unity Fiji's major strength is our experience to manage the economy and budget our resources smartly. Our skills and experience in economic and financial management will help build a strong platform that will provide more jobs to our youths and improve the wellbeing of everyone irrespective of where they live in Fiji.
I would like to end by saying that Unity Fiji's vision is a long term one. Fiji must find young leaders now. The new Party will nurture Fiji's future political leaders who share in the vision of leadership for the people and by the people. We firmly believe that the emergence of people-centered leadership is extremely important to our future peace, stability, security and prosperity.
My team strongly believes that the entire package that Unity Fiji brings will present to the people irrespective of race, religion, age or gender a credible alternative to many of us who aspire to a united, fair, free and peaceful Fiji.
Thank you.